The Enico All-in-One mobile energy storage solution enables fast and easy use of renewable energy, regardless of location.
Mobile Energy Storage Systems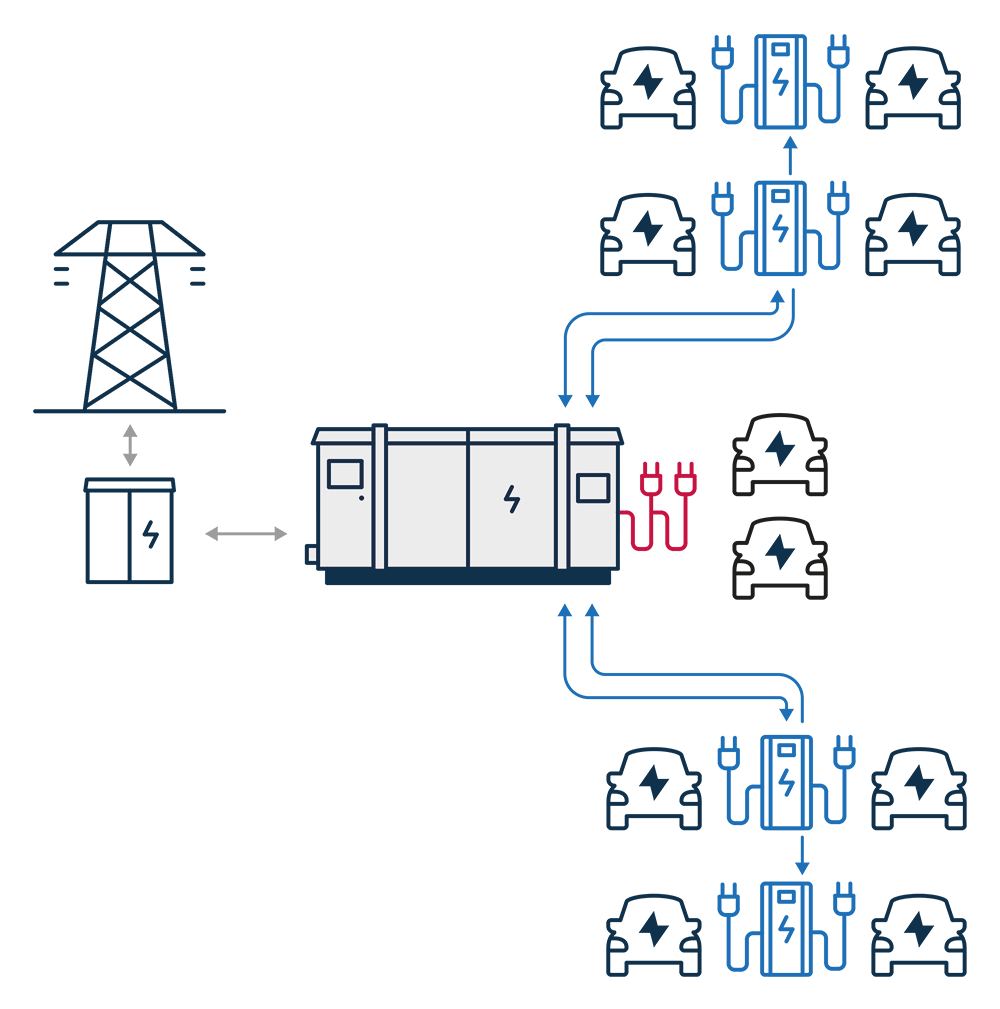 Enico's EnergyShare EV consept enables the construction of a full-scale charging station solution almost anywhere with a 400VAC/50Hz electrical connection.At the heart of the EnergyShare EV is Enico's unique MobileESS-EV energy storage system, which integrates 2 CCS power charging station. In addition, the energy storage has several ready-made connection points for smaller 22kW Type-2 AC charging units.
The solution makes it possible to set up an extensive electric vehicle charging station infrastructure, for example on construction sites, ski resorts, campsites or anywhere where it is not profitable to build a permanent charging station due to low/high season usage or lack of electric network capacity
Energy storage is increasingly being considered as a solution to enable the charging of electric vehicles in areas with limited grid capacity or in charging stations where a large number of high-speed – 50 kW or more – chargers are to be installed.
Typically, under these conditions, upgrading a regional power grid would be very expensive. At these sites, installing an energy storage to balance the load of the electricity is a great solution.
Enico has taken this thinking even further. What if you could build a full-service electric vehicle charging station solution anywhere in less than a day?
Electricity is one of the most important factors in all construction projects.
All construction projects require electricity to operate a variety of machines used on construction sites. Reliable access to electricity is a requirement in all construction projects. In many cases, construction sites depend on diesel powered generators to obtain the required electrical power as the main electrical connection on the site is often unable to provide the required power.
For example, tower cranes, earthmoving machinery, material handling equipment, road construction machinery and concrete equipment are all part of a construction activity that has a high electric power demand. In addition, the electrification of construction machinery will significantly increase the need for electricity on construction sites.
Enico's unique EnergyShare concept is an emission-free, environmentally friendly and efficient alternative to polluting fossil fuel-consuming generators that are commonly used for peak power distribution in construction projects.
At the heart of the EnergyShare solution is Enico's unique MobileESS CI energy storage system. MobileESS CI is a movable and extremely versatile energy storage device optimized for the construction site environment.
The MobileESS CI mobile energy storage unit can be used to implement high-efficiency electrical energy distribution throughout the construction site, regardless of the size of the Site's main electric supply.
Best of all, the cost of electrical energy made possible by an energy storage is up to 5-6 times cheaper than producing the same amount of electrical energy with a diesel Generator. In addition, the carbon footprint of the Energy Storage is up to 8 times smaller than that of a diesel Generator of the same electrical power.
If you have any questions or need further information, please contact us.